Welcome to embedded world Newsroom!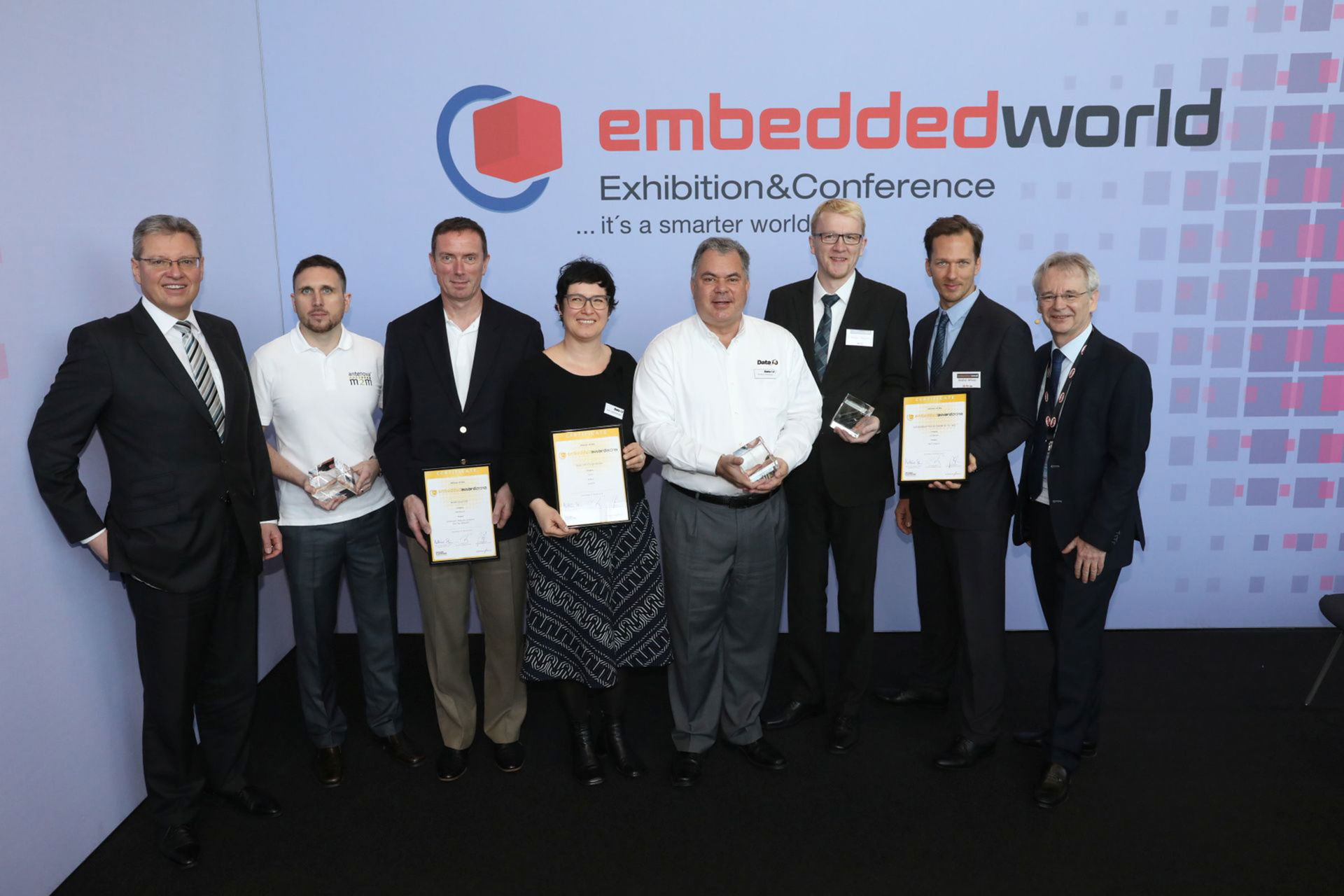 On 27 February 2018, the first day of the embedded world exhibition & conference, the eyes of the embedded community were once again drawn to Nuremberg for the traditional presentation of the embedded awards. For the 14th time, the coveted industry accolade recognises the most innovative development achievements in the categories Hardware, Software and Tools. The awards were presented by Dr Roland Fleck, CEO of NürnbergMesse and Professor Matthias Sturm, Chair of the Jury and the Embedded World Advisory Committee.
"We were inspired by the large number of highly innovative submissions from embedded system developers which once again made our decision very difficult. But every year, it is great to see the innovative strength and momentum of this sector. The award is a way of thanking and recognising the best members of the embedded community," says Professor Sturm.
Antenova Ltd. wins hardware category with its Robusta antenna, part number SR4G031
Robusta antenna, part number SR4G031, is a new antenna that can be used directly on metal surfaces. Antenova made this possible by developing its new patented REFLECTOR technology. There are two layers, one of which is electrically isolated from the other and provides RF shielding to the second layer. This allows the antenna to radiate in the direction pointing away from the base material.
Embedded Trend GmbH & Co. KG impresses with its byET-engine in the software category
The byET-engine is a deep neural-network (DNN) engine designed for embedded systems. It's fast and lightweight and makes efficient use of our limited resources available. A DNN can be trained on a server with a byET-engine and later transformed to the byET-engine format for deployment. The byET-engine can already be used with the pre-trained parameters for pattern recognition or can undergo further training when deployed on the embedded device to achieve better identification rates.
Data I/O Corporation wins the tools category with SentriX
The SentriX Security Provisioning Platform enables OEMs to provide hardware roots of trust during the pre-programming process – including cryptographic keys – to establish silicon device identity and authenticity, public/private key pairing and certificate signing, firmware encryption and decryption, secure execution, and secure boot.
The 2018 Jury comprises:
Professor Roberto Oboe, Department of Technology and Management of Industrial Systems, University of Padua
Professor Albert Heuberger, Fraunhofer Institute for Integrated Circuits (IIS)
Dr Erich Biermann, Bosch-Automobilelektronik, Robert Bosch
Professor Matthias Sturm, Leipzig University of Applied Sciences, Chair of the Advisory Committee of Embedded World
Joachim Kroll, Deputy Editor-in-Chief for electronics at technical publisher WEKA Fachmedien
Bertold Brackemeier, Senior Manager Public Relations, NürnbergMesse